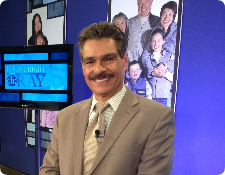 Saturday, April 7th, 6:30 - 10:30 p.m.
Orlando Gardens, 2050 Dorsett Village, Maryland Heights, MO 63043
JPII is proud to present Dr. Ray Guarendi, Psychologist, Author and father of ten, at its annual benefit dinner. Dr. Guarendi will be presenting his talk "Keeping Our Children Catholic in an Anti-Christian Culture".

In addition to Dr. Guarendi's talk, there will be a live auction featuring collaborative artwork by JPII students and Mrs. Mary Beth Hercules, handmade quilts by the students and Mrs. Tammie Mushinski, and a handmade sterling silver rosary by Principal Lynette Schmitz.
The event will start at 6:30 with a complimentary bar, silent auction, and book signing. Dinner will be served at 7:00, with Dr. Guarendi's talk at 8:15 and the live auction at 9:30.

We request that guests RSVP by March 20, 2018. Please see the documents below for further details.