May 1st - September 28th: Archdiocesan Pro-Life Video Challenge
Are you age 13-39? Are you pro-life?
Then enter the 2018 Respect Life Apostolate's Pro-Life Video Challenge and you could win a $500 prize! Create a 1-5 minute pro-life video that relates to our 42nd Annual Respect Life Convention theme, "Life Has Purpose."
Videos may be done by individuals or groups. The winning video will earn a $500 prize, be shown at the Convention and be posted on the Respect Life Apostolate's webpage.
The 2018 contest runs May 1 through Sept. 28. More details are at www.STLRepsectLife.org under "Pro-Life Video Challenge" or by emailing
[email protected]
June 2nd and 9th: Carmelite Day
July 9th - 14th: Camp Galena
Leadership Camp for Girls entering 6th-9th grade held at Babler State Park.

The Early bird discount will end on May 15th: don't miss this opportunity to save.

Online Registration is now open from our website: www.lindellstudycenter.org
August 9th - 12th: Family Retreat and Vacation Opportunity
A message from Eagle Hurst Ranch, Steelville, MO:
Sponsored by The Apostolate For Family Consecration

Daily Mass, Bonfire/Rosary, Divine Mercy Chaplet, Confession, Adoration, Spiritual talk in the morning for adults and separate talks for the different ages.

Fun Activities for the whole family - including older
youth fun in the evening, horseback riding, free pony rides, tubing on the Huzzah River, pool ( modest suits only please), volleyball, tennis, and much more!

Cabins, camping and family style meals. Refrigeration if needed.

Camp priest: Father J. Wasser, Missionaries of the Holy Family

For more information, email Eagle Hurst Ranch at eaglehurstranch.com, or call 800-257-2624. To reach the coordinator for St.Louis, call 314-420-7917.
October 13th: King to Queen Rosary Run
Register at RosaryRun.com.

From Jason Walter, acting Race Director: "Our desire is to utilize our modest event is to promote Catholicism in a public setting. We like to say, its more than a walk, more than a run, it is a "Devotion in Motion." We hope to see you along the course."
May 27th: Baccalaureate Mass, Graduation, and Reception
JPII is so proud of its class of 2018, the eleven bright young world changers pictured below. We wish them the best of luck in all their future endeavors!
May 24th: 8th Grade Graduation
JPII's annual 8th grade advancement ceremony showcased our rising high school freshmen. We celebrated the students' virtues and accomplishments, and the students thanked their teachers and treated us to a performance of the school hymn, 'Totus Tuus". Congratulations eighth graders; we are so proud of you and look forward to seeing all that you can do in high school! Thank you to Mrs. Heffernan for organizing the ceremony.
Monday, May 7th: Field Day
Students, parents, and teachers enjoyed a day of games and fellowship at Jaycee Park in St. Charles.
May 4th and 5th: "School House Rock, Junior" performance
A musical featuring 2nd-8th grade students under the direction of Mrs. Dery & Mrs. Heddell. Performances were held in the St. Peter's Auditorium. Photos coming soon!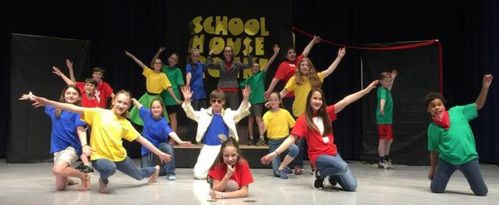 Tuesday, May 1st: May Crowning
We crowned our Blessed Mother and honored her at this special school Mass. There was a crowning of Mary, Mass, and enrollment in the scapular.

The procession was led by our First Communicants and Seniors (pictured below).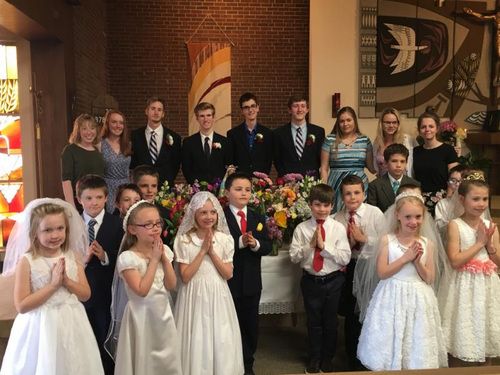 Monday, April 30th: State of the School Address
The board, faculty, staff, and parents met for a summary of enrollment, the school budget, Benefit Dinner, and an accreditation update. There was also be a breakout session for 11th grade families, or any interested family, to learn about dual enrollment, transcript and college information. Additionally, there was a presentation and signup for library readers. Thank you to all who attended!
Hannah King, Hope Dery, and Sophie Boyer show off their certificates of achievement.
Respect Life Creative Writing Contest
Several JPII students were received honorable mention at this year's contest. At the awards ceremony, special guests were in attendance to help present the certificates and awards and inspire the students on the importance of living out the virtue of chastity and respecting life from womb to tomb. These guests included Archbishop Carlson, Fr. Brian Fallon, Zip Rzeppa, Bob Cochran (nephew of the late Bishop O'Donnell), and two Missouri Knights of Columbus leaders.

Congratulations to Hannah King and Hope Dery for winning honorable mention, and to Sophie Boyer for an excellent essay!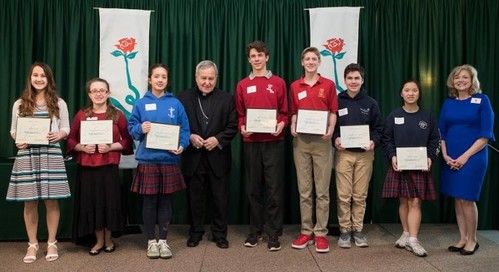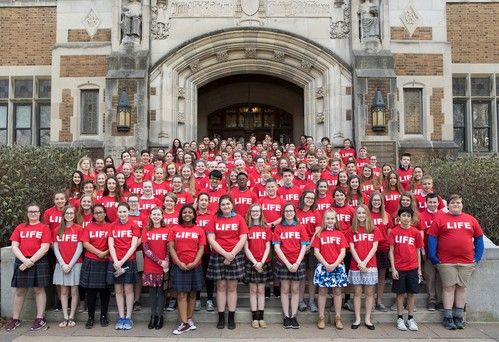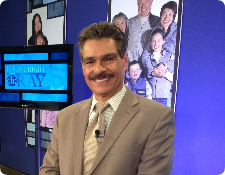 Orlando Gardens, 2050 Dorsett Village, Maryland Heights, MO 63043
Thanks to the generosity of JPII's families and friends, JPII met its fundraising goal.

JPII was proud to present Dr. Ray Guarendi, Psychologist, Author and father of ten, at its annual benefit dinner. Dr. Guarendi presented his talk "Keeping Our Children Catholic in an Anti-Christian Culture".

In addition to Dr. Guarendi's talk, there was a live auction featuring collaborative artwork by JPII students and Mrs. Mary Beth Hercules, handmade quilts by the students and Mrs. Tammie Mushinski, and a handmade sterling silver rosary by Principal Lynette Schmitz.
40 Days for Life "It Matters"
JPII students met at Planned Parenthood for an hour of prayer and witness. From left to right: Daniel Vaporean, Isaac Fulton, Anne Klein, Amanda Wheeler, Sam Nack, Prinicpal Lynette Schmitz, Max Nack, Stephen, Joseph, and Mark Buckley, Mary Kay Fulton.
Thank you for your acts of cheerfulness!
Joseph Cupples practiced the virtue of the month, Cheerfulness, by writing a joke for each school day during the month of February!
'Picture the Music' Awards
The artwork of Mary Stirton and Reagan Berchtold was selected as one of the top 100 Finalists in the Picture the Music Art Contest by the St. Louis Symphony. Brody Knaust also received a Certificate of Merit.

Lower grades had the opportunity to enter the contest again this year by creating artwork based on John Williams' 1984 'Olympic Fanfare and Theme'. The guidelines were for the students to creatively interpret this piece of music through art.

This year 11,797 students from 67 schools participated. Of these, over 426 entries were submitted, and two of our JPII students artwork were chosen to be in the top 100 Finalists.
Mary and Reagan were recognized at an awards ceremony and reception on February 26th at Powell Hall to honor the 100 Finalists. The artwork of the finalists was exhibited the evening of the ceremony and then moved to different locations throughout the St. Louis and St. Charles area.

Congratulations to Mary, Reagan and Brody!
Thursday, February 15th, 6 pm dinner/ 7pm talk
Dr. Hogan and his wife spoke on "Service in the family... what does that even mean?", and the JPII family enjoyed a potluck dinner and fellowship, along with the enlightening talk.
Saturday, February 10th, 5:30 - 8:30 p.m.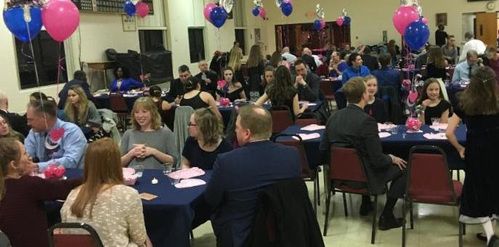 February High School Service Project
Friday, February 9th, 1 - 4 pm
Students sorted, boxed, and repackaged donations at the Volunteer Center of Foodbank.
Focus 11 is a Vocation Awareness Event sponsored by the Archdiocese of St. Louis designed to strengthen Catholic Identity and help foster personal awareness of God's plan. JPII Middle School attended a one-day retreat that focused on personal holiness and vocations. For more information click on the flyer below.
St. Peters in St. Charles graciously donated their school library to us, including shelving, reference books, non-fiction, biographies, easy-readers, and a good quality selection of classic literature. They were blessed for many years to have a donor who concentrated his efforts on their school library and are delighted that the books went to another Catholic school.
Congratulations to all of our talented performers, including:

Zachary Maxwell - Serious Monologue - Blue Ribbon (left)
Conrad Mercer - Humorous Monologue - Red Ribbon (right)

Duets: Gia Hall and Noah Hall - Red Ribbon
Chloe Behrle and Janae Moll - Blue Ribbon
Rebekah Cupples and Torie Weidlick (below)- Blue Ribbon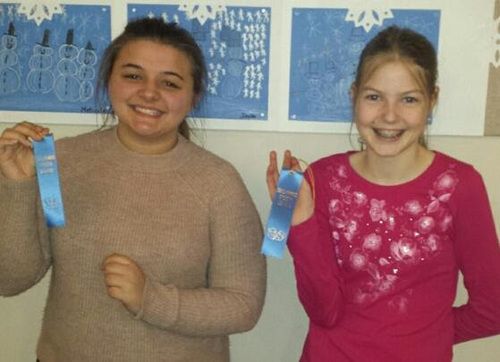 Thursday, February 1st, 2 pm
Congratulations to Hope Dery, champion, and Torie Weidlick, runner-up of this year's spelling bee! Thank you to Mrs. Heffernan for all her hard work in organizing the event.