How deep are the roots of a Redwood tree?
At only 10-12 feet deep, Sequoia Redwood roots are incomprehensibly shallow, given the size of the tree. How can a 500-ton tree stand, live, grow for centuries with such shallow roots? They withstand gale winds, earthquakes, fires, storms, and prolonged flooding. The roots aren't deep – but they are extremely strong, and the roots work together. The root system for a redwood tree is intertwined with those nearby, each tree supporting and nurturing the others.
Like the redwood root system, the community at St. John Paul II Prep is a strong, intertwined network that helps families and faculty nurture and support one another. Our unique hybrid model, blends the strength of a traditional in-person school with the advantages of homeschooling. We are dedicated to the solid foundation of the Catholic faith, a rigorous classical curriculum, character development, spiritual formation and extracurricular activities. The professional teaching team and the parents support and uphold one another, creating an environment for our students to thrive.
Your gift in support of this community helps families withstand the gale force winds of change, storms of civic division, and flood of messages from the culture around us, and nurture new growth in our students. 
Here's what happens when we reach each milestone with you:
Students will enjoy a dress-down in their favorite Catholic-affiliated t-shirt and will write 100 letters of appreciation to their parish priests as a school community.
Students will enjoy a dessert bar following lunch and will share in a roadside Pro-Life witness to at least 100 drivers.
The JPII community will share in an all-school celebration lunch for the students, and will make 100 bag lunches for St. Patrick's Center, a Catholic homeless shelter.
Students and faculty will have a full dress-down day, and will make 100 personal care bags for Our Lady's Inn, a Catholic womens' shelter.
STRETCH GOAL Students and families enjoy a homework-free day at home and have the opportunity to spend the day in a community-impact activity meaningful to their own families.
As a special thank you from the JPII Community, the first five Guardian Angel donors to make a gift at the $10,000 level will receive a copy of Saint John Paul II, featuring a collection of 78 rarely seen photos of our beloved patron.
This beautiful hardcover book is not available for purchase through any outlet. An alumnus of JPII high school (and the daughter of our foundress) lovingly created this priceless gem and offers it as a gift of grateful appreciation for generous donations of $10,000 or more.

About us
Founded in 2009, John Paul II Preparatory School is dedicated to forming faith-filled leaders through a strong classical education and Catholic formation through a hybrid model that blends in-person instruction with at-home learning.
As new families continue to seek out this hybrid model, our community continues to grow and nurture one another. Your gift helps this cooperative model thrive, creating a healthy balance between home life and school for our families, students and faculty members.
How can we pray for you today?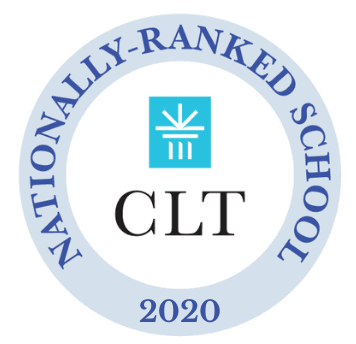 Alexis G.
Excellent teachers that help to give a true Catholic education in the St. Louis area.
Betsy V.
This is the best thing that has ever happened to our family. Everyone should be so lucky.
Bonnie L.
A 5-star education and a giant leap going into college.