Dean's Desk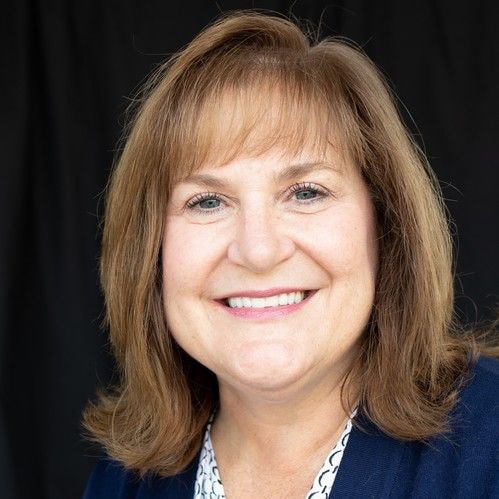 Greetings JPII families,
What an honor to be part of JPII's All-School Retreat today! The dual themes of St. Joseph and "I am Chosen" provided rich content for all the day's activities. The goal was to inspire students to intimacy with Christ through a commitment to personal, daily prayer. I was delighted that all our South Campus students joined us; it was a real pleasure to have them participate. All students received a retreat t-shirt with the message Ego Electi.
Inspiration came from personal witnesses to prayer, practical talks on ways to make prayer a permanent part of each day, and short skit activities for the HS/MS students. Grade school students had special activities, crafts, and stories. A St. Joseph altar was front and center with a life-size statue of St. Joseph, loaves of bread for every school family, and an abundance of paper Easter lilies made by the students.
All students participated in Adoration, Confession, Holy Mass, all-day music, an episode of The Chosen and a surprise livestream visit from Jonathan Roumie, the actor who plays Jesus in The Chosen. I was deeply touched so many different times throughout the day by the inspiring witness of each of our guests, the beautiful music throughout the day, and the quiet reverence of our students during the holy sacraments.
The talents of so many people made this a day to remember:
· Fr. Peter Fonseca, Fr. Augustine Wetta, Fr. Anthony Gerber, Fr. Dane Westhoff
· Deacon Luke Doyle, Danny Zink, Tricia Lombardo
· Music from Lucas Prize, Shennie Aldridge, Michelle Malawey, Christina Heddell, Amy Steppig
· Retreat team including Christina Heddell, Pam Olimpio, Elaine Maxwell and the GS teachers, Bobby and Suzanne Keppel, Heather Vento, Tara Schultz, Anne Klein and an army of volunteers
Please pray that the Holy Spirit brings to completion the good work that He has begun in each of us.
Have a great spring break, everyone. Enjoy your activities and each other, and return next week refreshed and enthusiastic for 4th quarter. Please remember as we return next week to keep your children at home if they show any sign of illness, even minor symptoms. By the grace of God, we have avoided a Covid outbreak this year; let's maintain our vigilance in this area until the end.
God bless you all.
Warmest regards,
Mrs. Lynette Schmitz
---
Virtue of the Month: Temperance
---
Calendar
March:
12– End Quarter 3
12-21 Spring Break
22– School resumes
23– HS Electives
23– Sandwiches for St. Patrick Center: Magnus (HS/MS)
29– 8th Grade Seder Meal
29–Confessions 2:00
30– Holy Mass HS/MS 2:15
30– Sandwiches for St. Patrick Center: Grades 4/5/6
April:
April 1-5– Easter Break
April 6– Easter parties
April 8– Pro Life/Life Runner T-shirts and jeans
April 16– Father Daughter Game Night, 7-9:30 pm
April 17– JPII Confirmation at the Cathedral 1:30 pm
April 25– PROM 2-5 pm (Stay tuned for specific information)
April 29– Dress Rehearsal for All-School Spring Concert/Musical/Drama
April 30– Performance All-School Spring Concert/Musical/Drama Evening 7pm
---
All School Retreat
---
Ego Electi
Jonathan Roumie from The Chosen
---
Guess the Patriots?
---
7th Grade History
---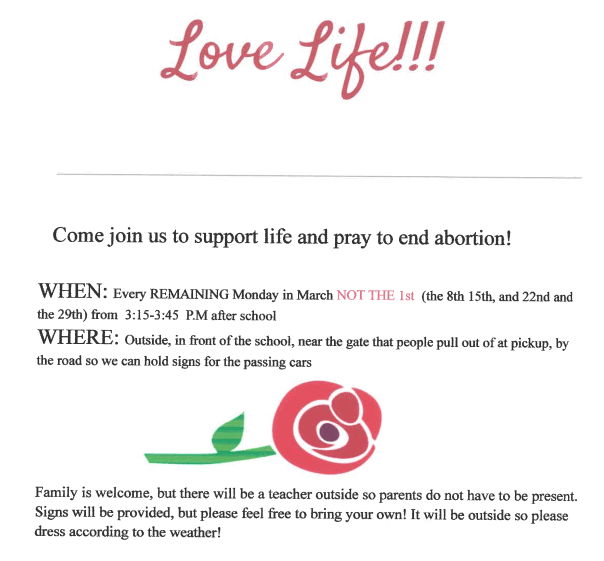 ---
Spring CoEd Soccer
Press here to Download & Fill Registration form
---
March's Spiritual Work of Mercy: Prayer
As students may already be donating or sacrificing their time and resources during this season of Lent, this month's charity project will be focusing more on the prayer aspect of Lent and charity.
Instead of choosing a corporal work of mercy for this month, students will be focusing on the spiritual work of mercy: pray for the living and the dead.
Ideas for this work of mercy include:
·        Asking your friends and family how you can pray for them
·        Adding on additional morning and evening prayers for your family and community
·        Praying a novena for the souls in purgatory
---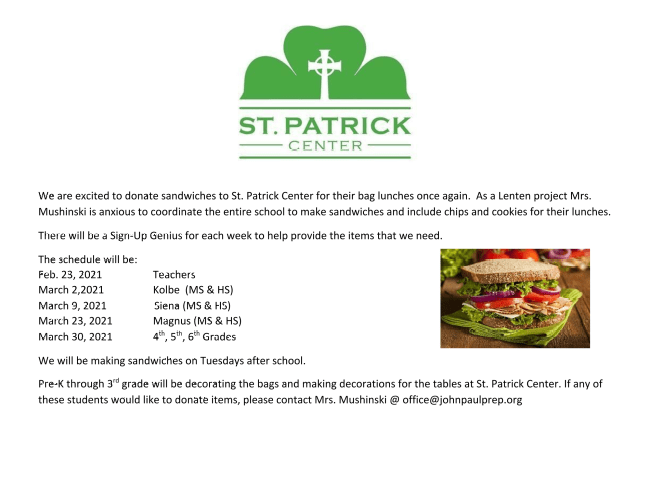 ---
Thank You Siena House for helping to make sandwiches for St. Patrick's Center!
---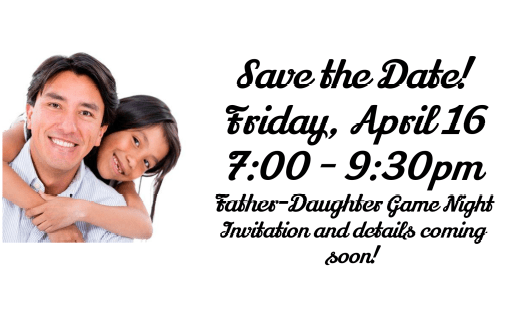 ---
Adorers Needed for Our Country
End to Abortion & Protection for our Churches
St. Barnabas is having Adoration for our country, an end to abortion, and the protection of our churches on Fridays in Lent only. Please join us and invite anyone you know to join us between 9am Fridays to Saturdays right before the 9am Mass with the exception of 6:30 Stations and 7pm Mass Friday night.
Adorers needed especially for the following hours:
Saturday 2am to 3am
Saturday 3am to 4am
Saturday 4am to 5am
Saturday 7am to 8am
St. Barnabas
1400 North Main Street
O'Fallon, MO 63366
Please call Bridget at 314.397.0347 to commit to an hour. Substitutes will be found if you ever can't make it. Thank you for considering this request!
---

JPII South Campus will host an Open House on the
first Tuesday of each month
at 7:00 p.m.
at St. Martin of Tours in South County.
Check out the South Campus at: https://jpiisouthcampus.wordpress.com.
Our families are our best advertisement!
Please share our Open House information with others who may be interested in our Catholic/Classical/Hybrid model.
---
Grade School Mass Information
We are pleased to be able to offer 24 seats for parents at the GS Masses only (HS/MS is at capacity). Parents will be seated in the last three pews on both sides of the sanctuary; students will sit with their classes. In order to attend a particular Mass, please register using Sign-Up Genius to ensure that we remain within our guidelines. Thank you!
March 2
Sign up to attend Grade School Masses
---
Coca-Cola Give program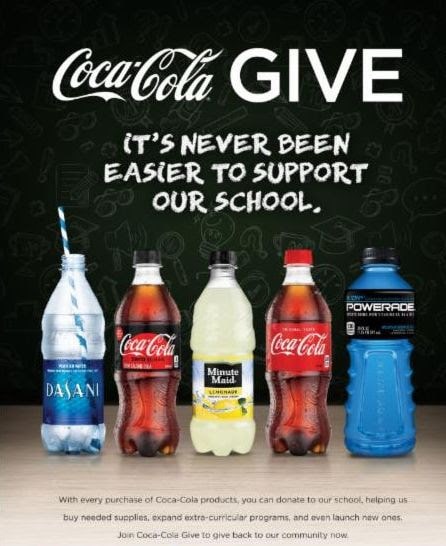 We are excited to share that our school is part of the Coca-Cola Give program. This opens up St. John Paul II Prep School to new funding opportunities to help improve learning environments for students.
The best part? Donations don't come out of your own pocket. When you make Coca-Cola purchases, you simply enter the product codes here: coke.com/give/schools and our school receives a donation.
Help St. John Paul II Prep School make the most of this program and learn more at Coke.com/give .
Go to coke.com 
Create your own personal account/ log-in
Select School: St. John Paul II Prep School/ Saint Charles
Scan/enter product codes with your phone
---
Divine Mercy Signs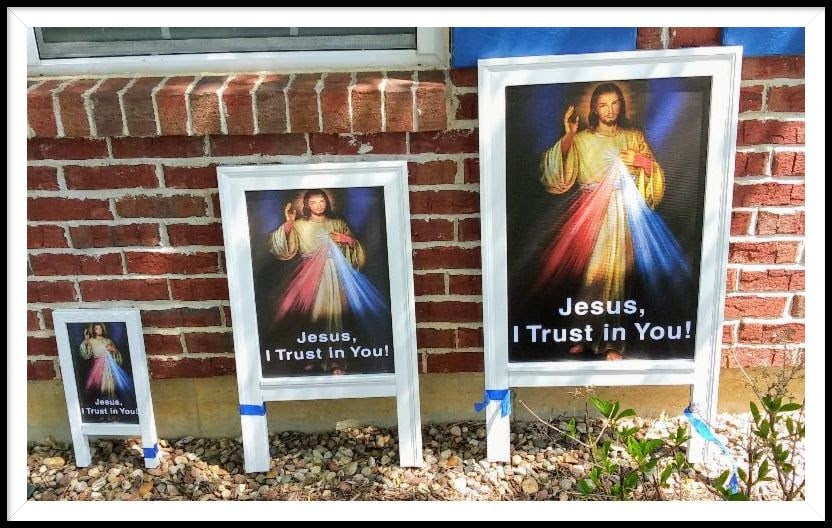 These are well made signs portraying a picture of the Divine Mercy on one side and include the metal posts needed to secure them .
Sign sizes and pricing:
8″x12″   $10 14″x17″  $17    20″x27″  $20
Make checks payable to St. Francis Borgia Parish.
Please contact Mimi McDonough (636-926-9311) Mcdonough@johnpaulprep.org
if you would like to order one of these signs.
The committee at St. Francis Borgia has made many of these beautiful signs and would like to spread the word about Divine Mercy to as many people as possible The donation helps the committee continue to make and distribute the signs, free of charge, to any parish which requests one.
---
JPII Prayer Group / Moms' Group
---
Around Town
These aren't sponsored by JPII, but you might still be interested in participating.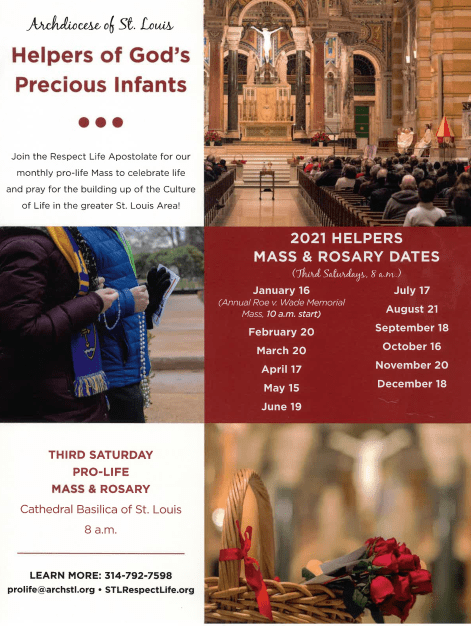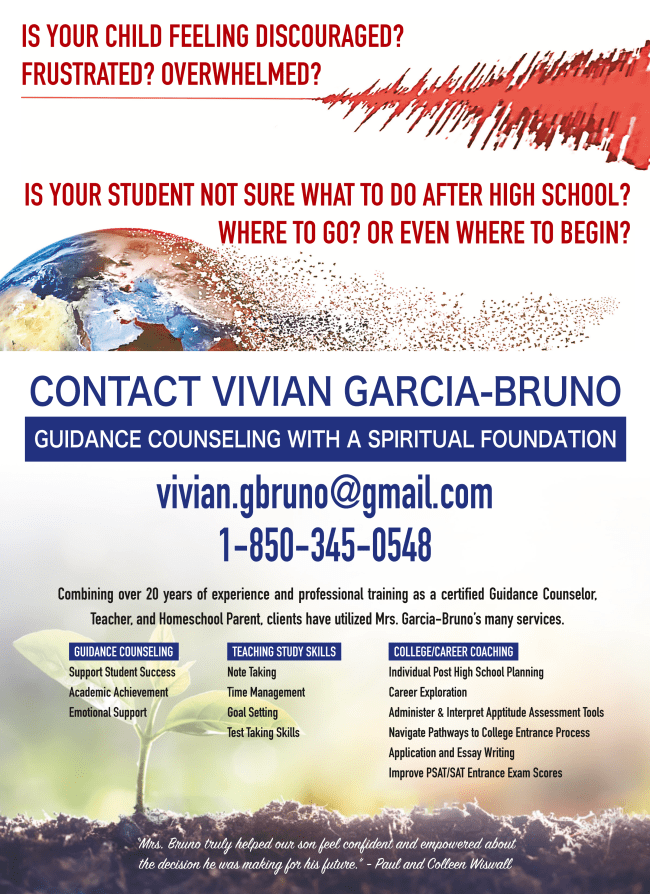 Guidance counseling is offered by Mrs. Vivian Bruno.
Please contact her directly if your student is in need of personal, college or career counseling.
vivian.gbruno@gmail.com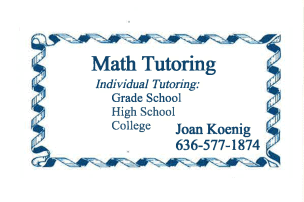 Math Tutoring Available
Joan Koening has close to 20 years tutoring math. She is a parishioner at St. Peter in St. Charles.
References are available upon request.
---
College Information
Christendom College
Invite letter from Christendom
The spring semester is flying by, and I wanted to let you and your students know that April is the last month for students to visit our campus during the 2020-21 academic year.
We are offering day and overnight visits every week of April that classes are in session. (Nota bene: We won't be hosting visits over Easter Break–April 1-5).
The following weeks are currently available for juniors and seniors to visit.
Tuesday, April 6—Friday, April 9
Monday, April 11—Friday, April 16
Monday, April 19—Friday, April 23
Monday, April 25—Friday, April 30
In addition to these visit days, we also have our last spring Open House on Saturday, April 17.
During a campus visit, students will be able to sit in on classes, tour campus, attend Mass in our chapel, enjoy lunch with the student body, and gain unique insights into the academic, spiritual, and cultural life on campus.
Friday, April 30, is the absolute last day for a full visit. (Following that, students are welcome to come tour campus, but they won't be able to observe classes).
So if you know of any students that would like to witness our joyful Catholic community, and traditional liberal arts academic program, then please encourage them to set up a visit here ASAP: https://www.christendom.edu/visit
In Christ,
Michael Mazzara
Associate Director of Admissions
Christendom College
540.551.9232
P.S. For juniors looking to experience Christendom over the summer by attending the Best Week Ever, we just filled up ALL spots for young ladies in all 5 sessions. At this time, we have limited spots remaining for young men, but male juniors should apply soon at www.thebestweekever.com
St. Louis University
Gutenberg College
Gutenberg College
Have a question?
Ask our team at office@gutenberg.edu.
Upcoming Young Philosophers:
"I think, therefore I ask."
"Life has never been normal," wrote C. S. Lewis in an address to students at the outset of World War II. If we are waiting for a better time to pursue truth, goodness, and beauty, we may never get started. In the Young Philosophers series, Gutenberg College opens its (virtual) doors to high-school-age participants for thoughtful online discussion of important ideas.
Young Philosophers: Virtue — December 3, 2020
Young Philosophers: Freedom — March 4, 2021
To ensure that each student receives a personalized experience, group sizes are limited to 12 students. Register today to claim your space.
About Gutenberg College
Gutenberg is a small, private, Christian Great Books college in Oregon. We exist for students who are interested in:
A small student population with robust faculty-student interactions.
A single core curriculum focused on reading original sources rather than textbooks.
Integrating history, math, philosophy, literature, writing, art, and science with biblical Christianity (rather than studying them in isolation).
Discussion-based classes in which students' ideas and questions are respected.
Learning on a residential campus that is situated in the beautiful Willamette Valley.
Wyoming Catholic College
Contemporary View of Communication—-Wyoming Catholic College
On January 9, 2007, Apple's CEO Steve Jobs unveiled the iPhone at the annual Macworld convention. Six months later, when the iPhone was released to the public, it immediately changed how the world communicates. Its combination of revolutionary technology and wonderful aesthetics became the standard for cellphones everywhere. Today, smartphones are ubiquitous and "dumbphones" are the exception.
In the midst of this changed world, Wyoming Catholic College does not lose sight of what truly binds the world together: community. In order to strengthen the bonds of our students and to rebuild certain elements of communication that have been lost through the ease of mass communication, all of our students turn in their cellphones upon arriving on campus.
Yes, this is radical, and yes, this is hard. It is not easy to let go of items that we have come to think of as necessary to everyday life. But, as student life coordinator, Betz Meluch, describes in the video below, this minor inconvenience quickly becomes a benefit not known since Gen Xers walked the quads of colleges.
If you have any questions about student life or another part of the application process, please contact your admissions counselor at admissions@wyomingcatholic.edu or 877-332-2930.
All the best,
Office of Admissions
Wyoming Catholic College
Wyoming Catholic College – Open House
Many of the resources from our virtual Open House this past Saturday are still available for viewing on the Open House page on our website.
A few more things to keep in mind:
1. Weaving the Tale: Literature as the Fabric of Culture
(November 2, 2020)
Join President Glenn Arbery to discover why good literature is crucial to the rebuilding of society.
2. A Note on Rolling Admission
Rolling admission is akin to first-come-first-served. In order to ensure that your application is reviewed before the class of 2025 is filled, it is recommended that applications be submitted by January 1, 2021.
3. Flannery O'Connor Scholarship
Unlike the Founders' Scholarship, this scholarship is not limited to high school applicants. All submissions will be reviewed background-blind.
As always, please do not hesitate to contact the Admissions Office at admissions@wyomingcatholic.edu or 877-332-2930 if you have any questions.
We look forward to seeing you in Lander soon.
All the best,
Jonathan Rensch
Director of Admissions
Colleges
---
School Information
Staff Directory 2020-2021 Updated 11/20/2020
Family Directory 2020-2021 Updated 2/2/2021
2020-2021 Calendar V10
2020-2021 Important Calendar Dates — Updated 12/4/2020
MS/HS Revised Schedule 12/4/2020
Parent & Student Handbook 2020-2021
Uniform information  2020-2021
Students by Class
Holy Mass Schedule Updated 1/12/2021
JPII Business & Services
---
To submit JPII news to this newsletter, email laura.vaporean@johnpaulprep.org